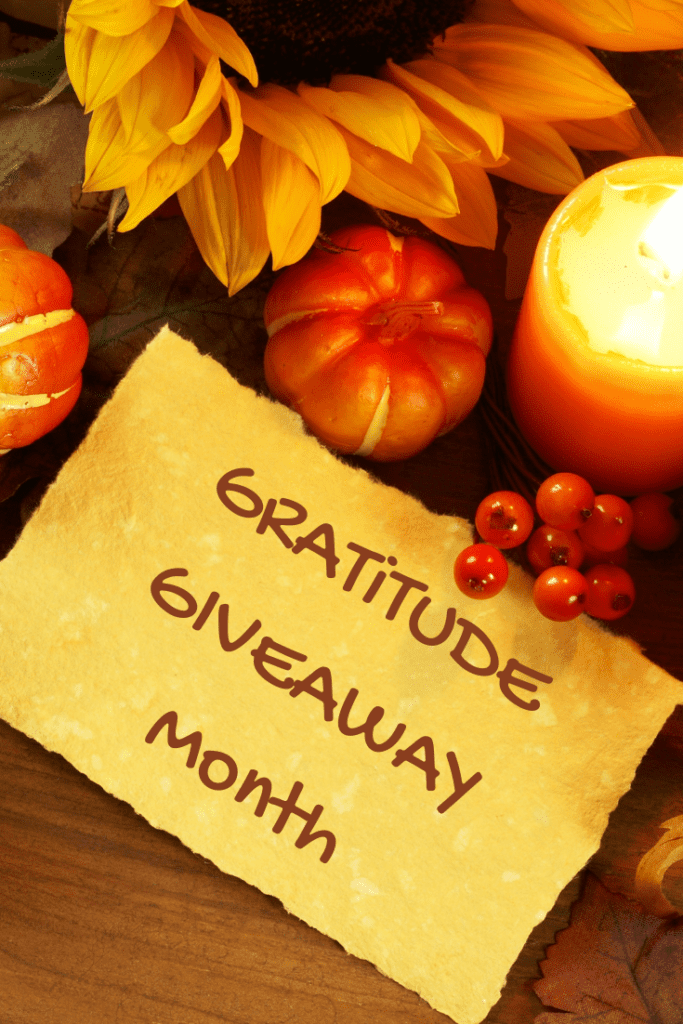 November is here, and so is my GRATITUDE GIVEAWAY! I am excited for you to join me this month to learn about gratitude and get chances to win fabulous gifts! That is what a GRATITUDE GIVEAWAY is all about, and I want YOU to be a part of it!
GIVING GIFTS
It is a special Mindful Monday here AT THE CROSSROADS, my fellow travelers. One of my love languages is gifts, so I love giving things to people. I think it is no coincidence that this GRATITUDE GIVEAWAY comes after THE WAY OF THE WILDERNESS blog series. God has taught me so much in the desert and helped me develop an attitude of gratitude…even for the hard things. And since so many of you have played an instrumental role in my journey, I want to take this month to give back to YOU.
NURTURING AN ATTITUDE OF GRATITUDE
My blog posts are going to look a little different this month. I want to do three simple things each week as I focus on giving thanks and giving gifts.
GROWTH

: For what should we be grateful? How do we grow in gratitude?

GUIDANCE

: Where do we turn for guidance on how to nurture an attitude of gratitude?

GIFT

: What can I give you that will help you in your journey toward greater gratitude?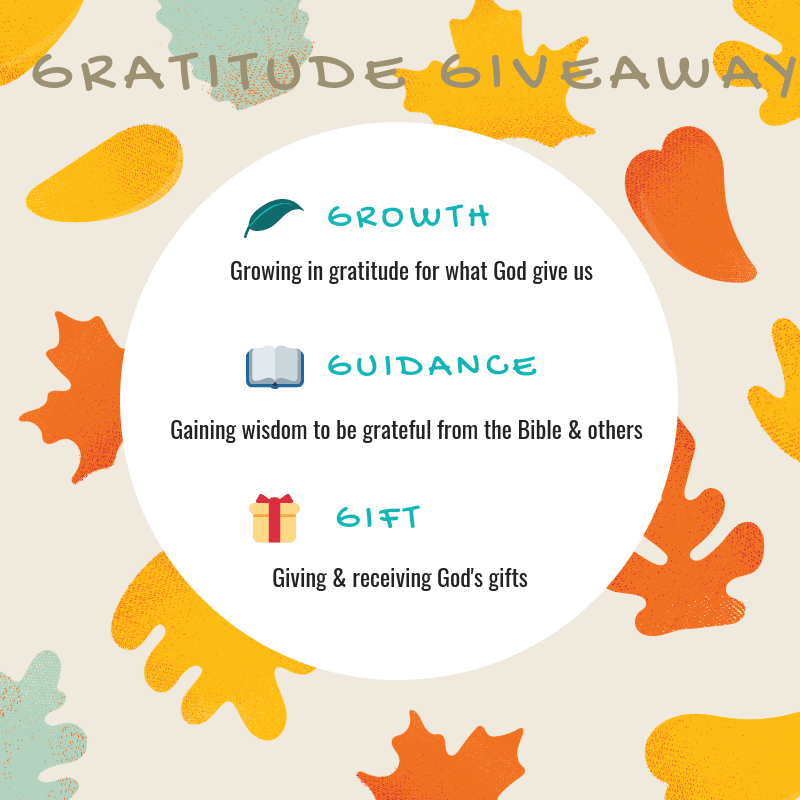 GRATEFUL FOR HOPE IN TRIALS
Each week I want to focus on one thing that God has taught me to be thankful for, and I feel I need to start with HOPE IN TRIALS.
GROWTH
"Hope means hoping when things are hopeless, or it is no virtue at all…As long as matters are really hopeful, hope is mere flattery or platitude; it is only when everything is hopeless that hope begins to be a strength" (G. K. Chesterton, Quoted in Signs of the Times, April 1993, p. 6).
The light of hope shines brightest in the darkness of hopelessness. I think it is only when we experience difficult trials, wasteland wanderings, and loneliness in the valley that can we recognize and value true hope. It is interesting that hope only gains strength when things are hopeless. I found that to be true in my own experience. I am so thankful for God's hope that gave me the glimmer of light at the end of a long and dark tunnel of discouragement and doubt. This kind of hope encourages and inspires us to keep moving forward no matter how difficult the circumstances because it is not grounded in our abilities, resources, or strength. This kind of hope is built on who God is and what he says he will do. In Hebrews 6:19, the writer describes hope as "anchor for the soul."
Have you experienced hope in the midst of your trials? Can you thank God for providing a glimmer of hope in the midst of darkness and doubt?  Cling to the hope that does not disappoint because it is built on the never changing promises of God.
GUIDANCE
He gives strength to the weary
    and increases the power of the weak.
 Even youths grow tired and weary,
    and young men stumble and fall;
but those who hope in the Lord
    will renew their strength.
They will soar on wings like eagles;
    they will run and not grow weary,
    they will walk and not be faint.
~ Isaiah 40:29-31 (NIV)
Not only that, but we rejoice in our sufferings, knowing that suffering produces endurance, and endurance produces character, and character produces hope, and hope does not put us to shame, because God's love has been poured into our hearts through the Holy Spirit who has been given to us.
~Romans 5:3-5
"Hope is the thing with feathers that perches in the soul and sings the tune without the words — And never stops at all." 
~Emily Dickinson
"The best we can hope for in this life is a knothole peek at the shining realities ahead. Yet a glimpse is enough. It's enough to convince our hearts that whatever sufferings and sorrows currently assail us aren't worthy of comparison to that which waits over the horizon." 
~Joni Eareckson Tada
GIFT
Here is how you can enter to win these FREE GIFTS in my GRATITUDE GIVEAWAY this week! Please read these guidelines carefully.
Week 1: GRATITUDE for HOPE IN TRIALS

The first gift is a large coffee mug with Isaiah 40:31 and the second gift is a wooden plaque with words of the song "Blessed Be Your Name" written by Matt and Beth Redman. They wrote this song after the 9/11 attacks on America as "realization that we will all face seasons of pain or unease. And in these seasons we will need to find our voice before God."
I pray these giveaways will increase your attitude of gratitude for HOPE IN TRIALS.
The GRATITUDE GIVEAWAY for these two gifts runs throughout the entire week, so make sure you enter as many times as you can and share this post with your friends. I will announce and contact the winners next Mindful Monday!