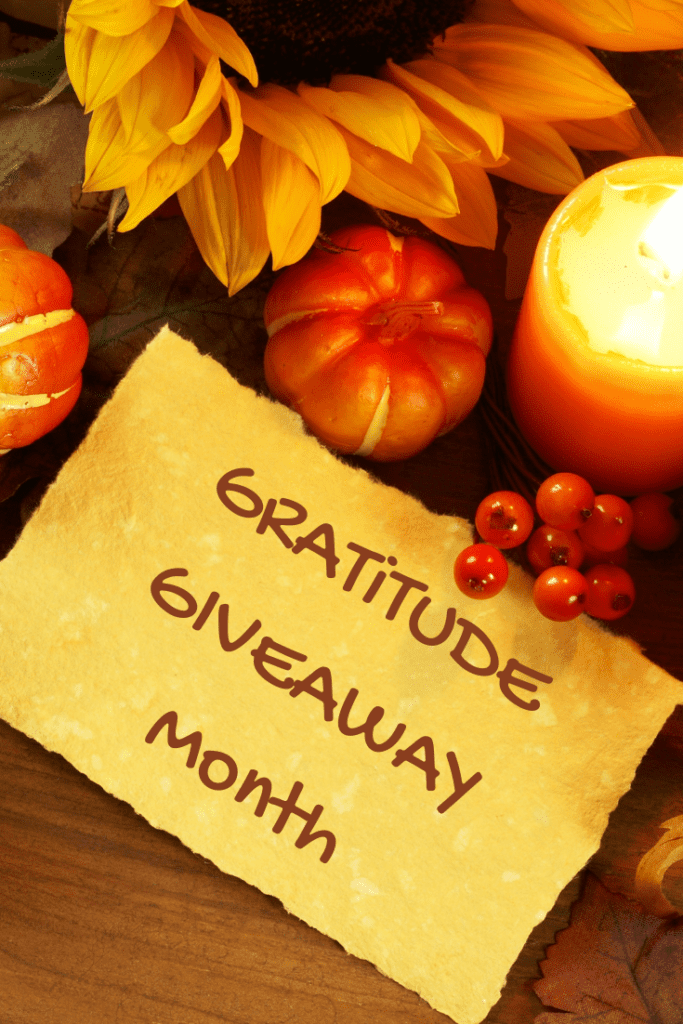 November is coming to an end, and so is my GRATITUDE GIVEAWAY! It has been wonderful to have you join me this month to learn about gratitude and get chances to win fabulous gifts. You have one more week to win my last giveaways, so please make sure you enter as many times as you can.
GRATITUDE GIVEAWAY WINNER
Last week, I had two fabulous giveaways: A daily calendar entitled "Streams in the Desert" and a gratitude journal to help you to record your thankfulness. I hope that using both of these resources will help keep you focused and grateful for God's daily strength.
I am excited to announce the winner who will receive these gifts is:
JODI SABO
NURTURING AN ATTITUDE OF GRATITUDE
Each Mindful Monday of this month we have focused on three simple things:
GROWTH

: For what should we be grateful? How do we grow in gratitude?

GUIDANCE

: Where do we turn for guidance on how to nurture an attitude of gratitude?

GIFT

: What can I give you that will help you in your journey toward greater gratitude?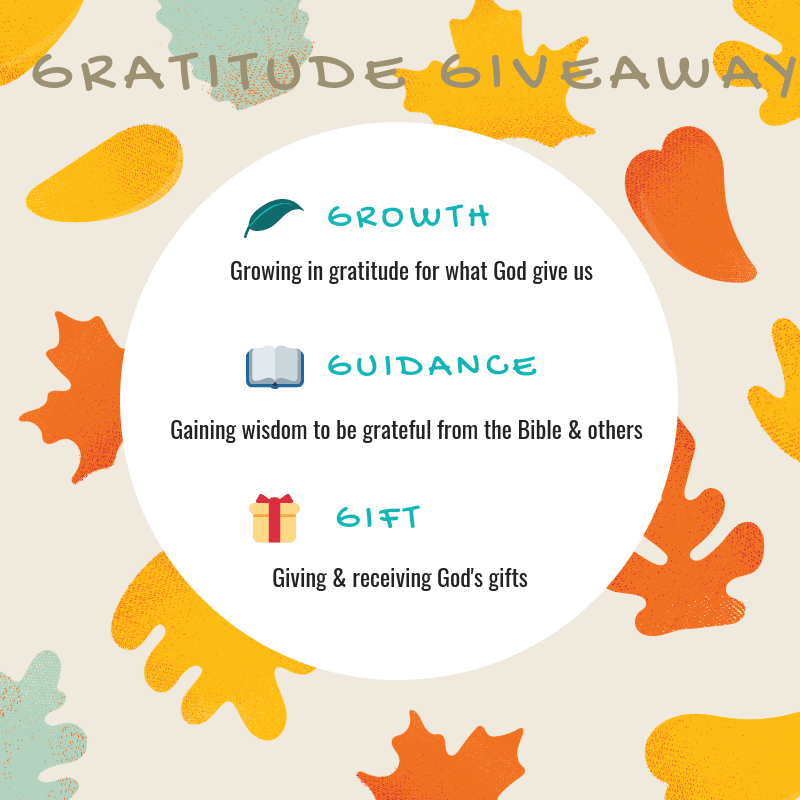 GRATEFUL FOR GOD'S PRESENCE
GROWTH
Although many people would describe God's presence as a "feeling," it goes much deeper than that. We can experience the nearness of God in a variety of ways throughout different seasons of our lives. For some of us, it is being awestruck by the beauty we see in nature that makes us feel close to God. For others, it is the words of a song or scripture verse that pierce straight through our souls. And almost all of us have experienced that aching longing for something more, something better which is also an indicator that we have all have a God-shaped hole in our hearts that only he can fill.
But unanswered prayer, unexplained loss, physical suffering, or a betrayal by someone close to us can cause us to think that God has forgotten or left us. Other times, the busyness of our daily lives leaves little time for us to draw near to God. What then? The question we are left asking is: Is God's presence still there even when we don't feel it?
Hebrews 13:5 promises that God will never leave us or forsake us, so when we don't feel God near we can be confident that He has not moved…we have. And that is okay. There are ways we can re-engage and sense God's presence if we are deliberate and intentional. Being grateful for God's presence requires some action on our part, so try some of these things to draw near to God this week and thank him for always being there!
Talk a walk alone and marvel at the beauty of his creation.
Listen to a worship song and sing the lyrics back to God.
Say his name throughout the day in short prayers: "Thank you, Jesus."
Write scripture verses on index cards and say read them out loud (memorize if you can!).
Post tangible reminders around your living and workspace (check out the giveaways for some ideas!).
GUIDANCE
You make known to me the path of life;
    in your presence there is fullness of joy;
    at your right hand are pleasures forevermore.
~Psalm 16:11 (ESV)
Teach these new disciples to obey all the commands I have given you. And be sure of this: I am with you always, even to the end of the age.
~Matthew 28:20 (NLT)
 So we have come to know and to believe the love that God has for us. God is love, and whoever abides in love abides in God, and God abides in him.
~1 John 4:16 (ESV)
"Peace comes not from the absence of trouble, but from the presence of God. "      
~Alexander MacLaren
"We may ignore, but we can nowhere evade, the presence of God. The world is crowded with him. He walks everywhere incognito. And the incognito is not always hard to penetrate. The real labor is to remember, to attend … in fact to come awake. Still more, to remain awake."
~C.S. Lewis in Letters to Malcolm: Chiefly on Prayer
GIFT
Since God is not someone we can see, feel, or hear with our physical senses, it may be difficult to be aware of his presence. If you are like me, you may need concrete reminders. So this week's gifts are things you can put around your home, office, or anywhere else you spend a lot of time to provide you with gentle reminders that God is always with you.
The first is a beautiful pewter room blessing created by Cynthia Webb. It reads: "Christ is the head of this house and the unseen guest at every meal." What a beautiful way to invite God's presence into your home! The second is a delicately designed trinket dish that has Micah 6:8 written on it: Do justly. Love mercy. Walk humbly. If we take God's presence with us, his spirit will enable us to do these three simple things as we go about our day.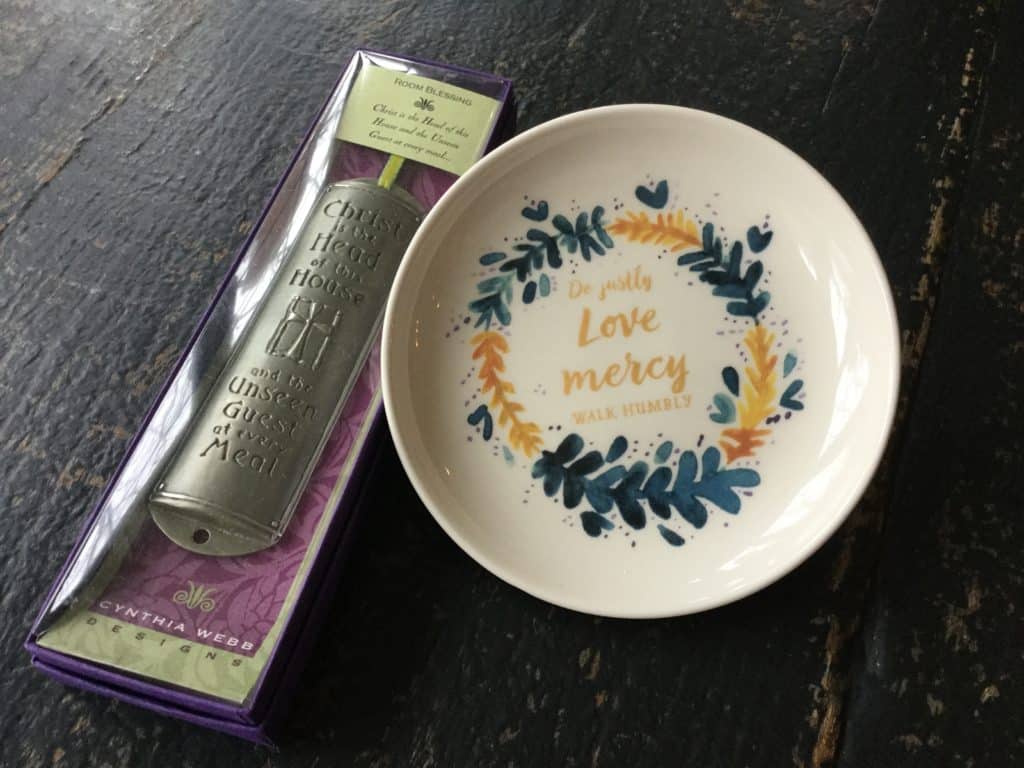 Here is how you can enter to win these FREE GIFTS in my GRATITUDE GIVEAWAY this week! Please read these guidelines carefully. Entering is so simple and easy, so please take the time to do it now! (If you are an email subscriber, please make sure you click on the link provided.)
Week 4: GRATEFUL FOR GOD'S PRESENCE

I pray these giveaways will increase your attitude of gratitude for GOD'S PRESENCE.
The GRATITUDE GIVEAWAY for this gift runs throughout the entire week, so make sure you enter as many times as you can and share this post with your friends. I will announce and contact the winners next Mindful Monday.