November is here, and so is my GRATITUDE GIVEAWAY! I am excited for you to join me this month to learn about gratitude and get chances to win fabulous gifts. That is what a GRATITUDE GIVEAWAY is all about, and I want YOU to be a part of it!
GRATITUDE GIVEAWAY WINNER
Last week, I the giveaway was a large coffee mug with Isaiah 40:31 and a wooden plaque with words of the song "Blessed Be Your Name" written by Matt and Beth Redman.
I am excited to announce the first winner who will receive these gifts is: DENISE MEANS 
Yay, Denise!! Thank you for entering, and I hope these gifts will help you grow in gratitude for the HOPE God gives us in the midst of trials.
NURTURING AN ATTITUDE OF GRATITUDE
Each Mindful Monday of this month I want to do three simple things we focus on giving thanks and giving gifts.
GROWTH

: For what should we be grateful? How do we grow in gratitude?

GUIDANCE

: Where do we turn for guidance on how to nurture an attitude of gratitude?

GIFT

: What can I give you that will help you in your journey toward greater gratitude?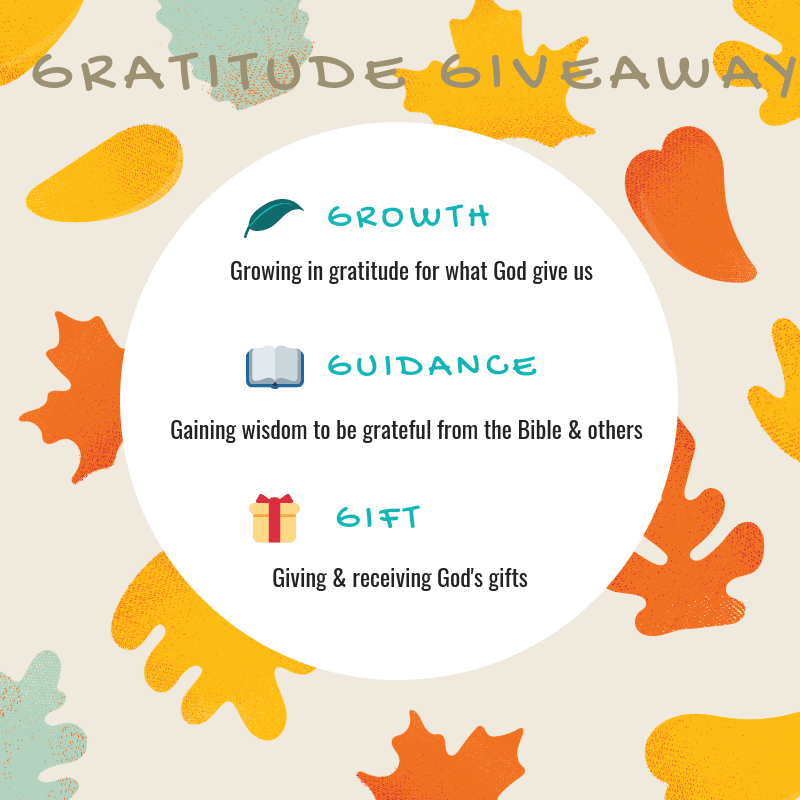 GRATEFUL FOR GOD'S GRACE
I have written and spoken about grace over the past several years. It is one of those gifts we often take for granted…but a gift that always keeps on giving!
GROWTH
The simplest definition of GRACE is this:  the free, unmerited favor of God toward man (Bible Dictionary).
When a person works an eight-hour day and receives a fair day's pay for his time, that is a wage. When a person competes with an opponent and receives a trophy for his performance, that is a prize. When a person receives appropriate recognition for his long service or high achievements, that is an award. But when a person is not capable of earning a wage, can win no prize, and deserves no award—yet receives such a gift anyway—that is a good picture of God's unmerited favor. This is what we mean when we talk about the grace of God.
We live in a world of earning, deserving, and achieving. There are winners and losers, right?  And we are judged according to how we measure up or perform. However, these rules do not apply to God's GRACE. It is completely free with no strings attached. We can do NOTHING to earn it, and it is tough for us to wrap our minds around this. We are scared because we cannot believe it is true. We dare not even hope it could be true. How can God accept me as the broken, messed up wreck that I am and not expect anything in return?  We are convinced that we have to DO something to earn this kind of favor from God, but the Bible tells us that grace is a FREE GIFT.
I know we talk a lot about giving during this month of gratitude, but today I want you to focus on receiving. Receiving God's amazing gift of grace. C.S. Lewis said, "A man whose hands are full of parcels can't receive a free gift."  I would ask you to consider dropping some of those things in your hands: put down your unworthiness, your attempts to be a better person, all the good things in your life that will never fill the void, and accept God's gift of grace today. It will change your life.
GUIDANCE
For by grace you have been saved through faith. And this is not your own doing; it is the gift of God, not a result of works, so that no one may boast.
~ Ephesians 2:8-9 (ESV)
Let us then with confidence draw near to the throne of grace, that we may receive mercy and find grace to help in time of need.
~Hebrews 4:16 (ESV)
"The grace of God means something like: Here is your life. You might never have been, but you are because the party wouldn't have been complete without you."
~Frederick Buechner

"A man can no more take in a supply of grace for the future than he can eat enough today to last him for the next 6 months, nor can he inhale sufficient air into his lungs with one breath to sustain life for a week to come. We are permitted to draw upon God's store of grace from day to day as we need it."
~ Dwight L. Moody
GIFT
This week I am thrilled to give away two gifts that will help you focus on your daily need for God's grace. The first is the "The Color Of Praise" book and a set of colored pencils. The inspiring illustrations highlight scripture, quotes, and prayers that will allow you to ponder thanking God for his amazing gifts.
The second is a "Grow in Grace" desk pad with a quote from Bob Goff that reads: "Give away love and grace like you're made of the stuff." This memo pad has spaces for you to write about people, projects, and prayers that need daily love and grace.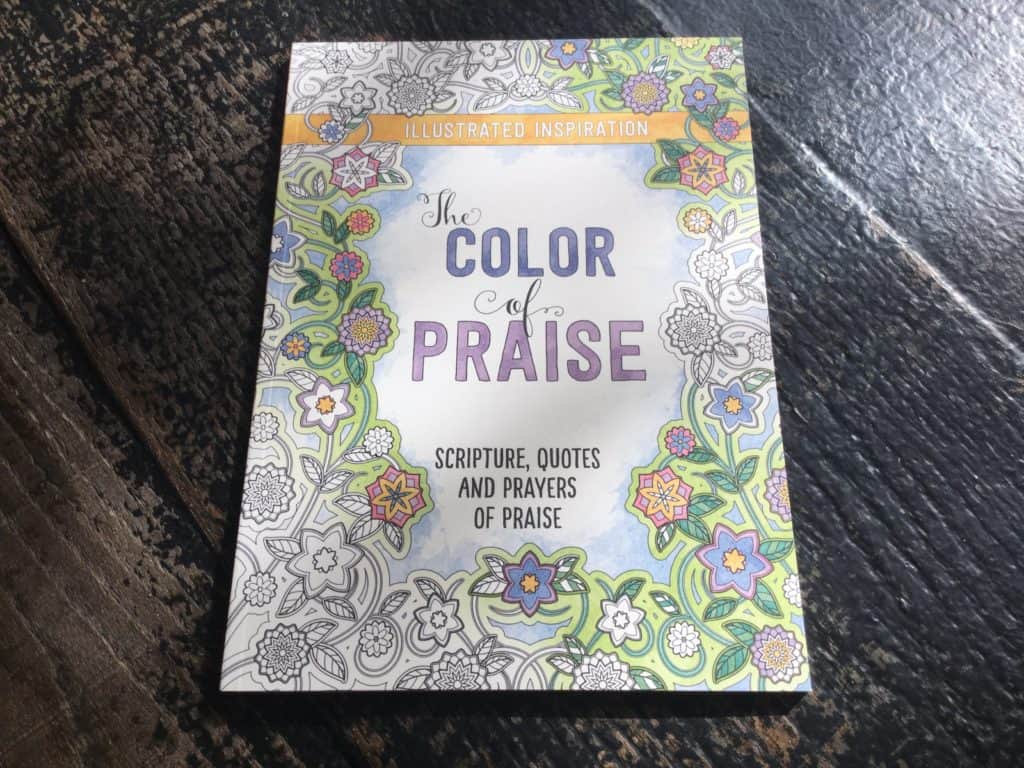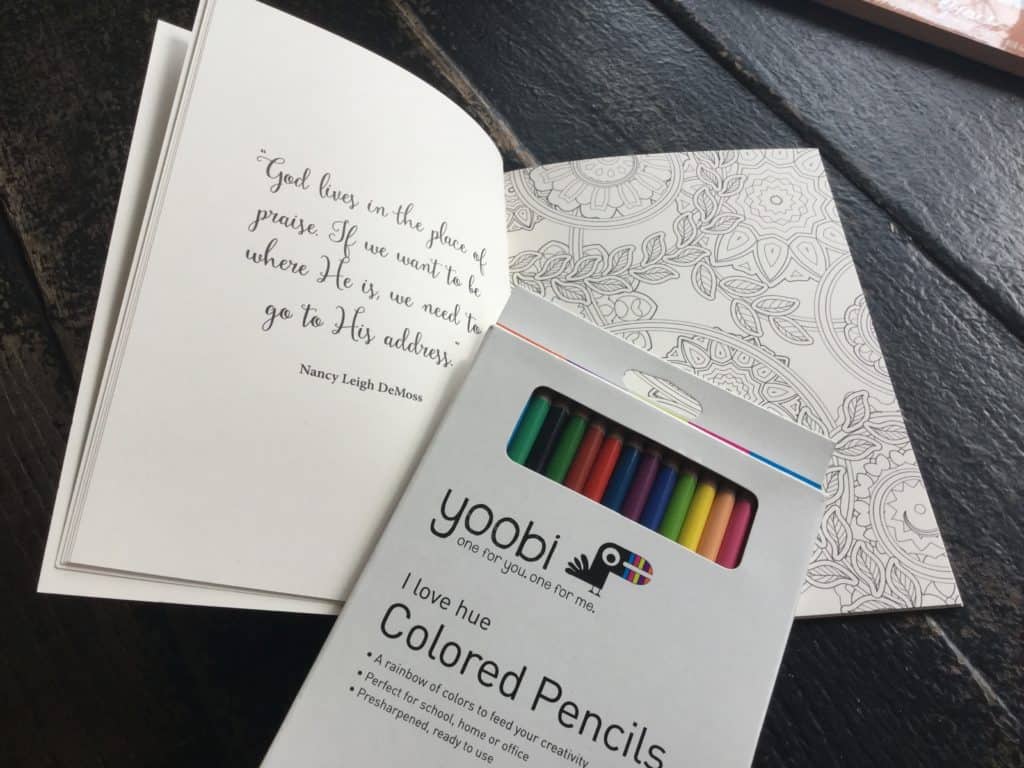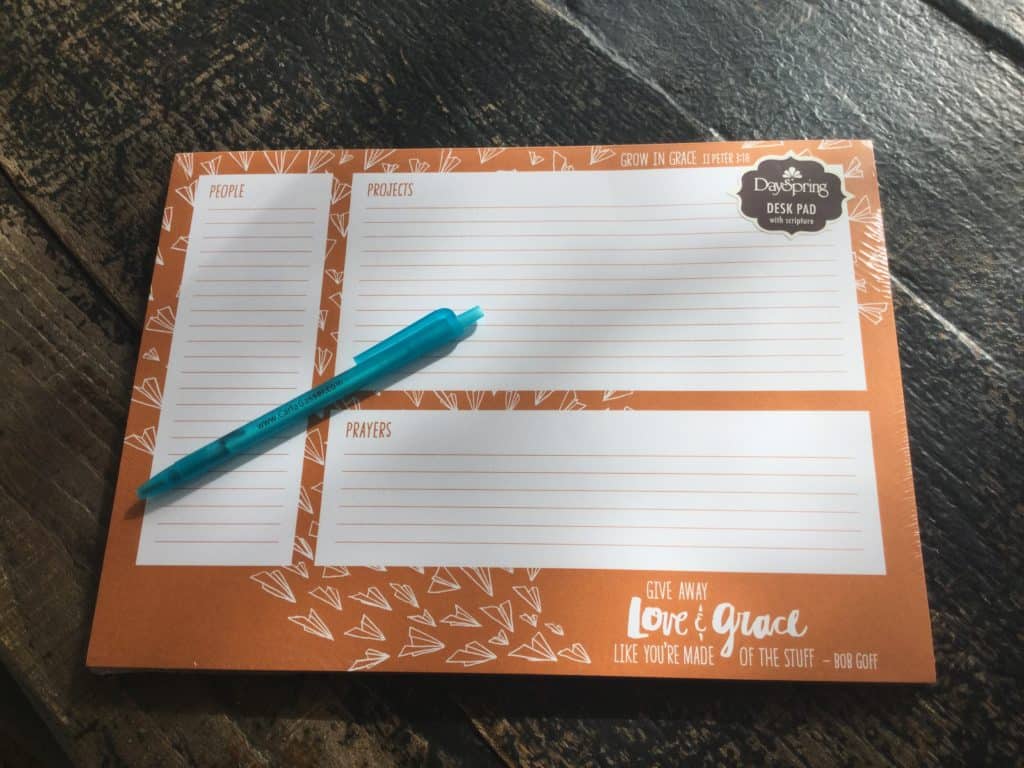 Here is how you can enter to win these FREE GIFTS in my GRATITUDE GIVEAWAY this week! Please read these guidelines carefully. Entering is so simple and easy, so please take the time to do it now! (If you are an email subscriber, please make sure you click on the link provided.)
Week 2: GRATITUDE for GOD'S GRACE

I pray these giveaways will increase your attitude of gratitude for GOD'S AMAZING GIFT OF GRACE.
The GRATITUDE GIVEAWAY for these two gifts runs throughout the entire week, so make sure you enter as many times as you can and share this post with your friends. I will announce and contact the winners next Mindful Monday!