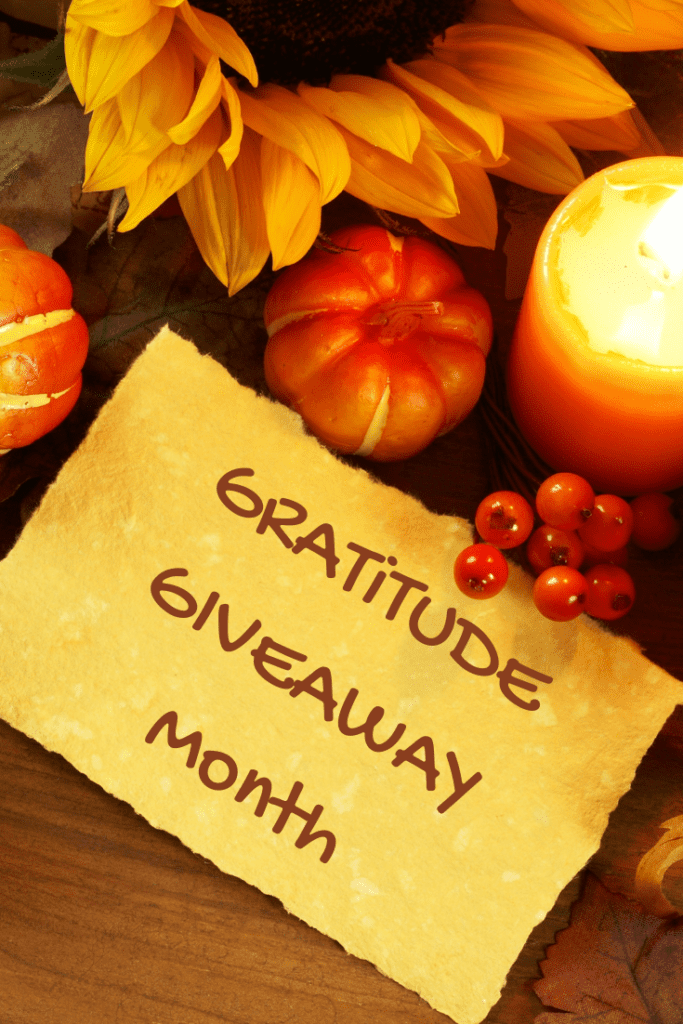 November is here, and so is my GRATITUDE GIVEAWAY! I am excited for you to join me this month to learn about gratitude and get chances to win fabulous gifts. That is what a GRATITUDE GIVEAWAY is all about, and I want YOU to be a part of it!
GRATITUDE GIVEAWAY WINNER
Last week, I had two fabulous giveaways: "The Color Of Praise" book and a set of colored pencils and a "Grow in Grace" desk pad with a quote from Bob Goff.
I am excited to announce the two winners who will receive these gifts are:
MICHELLE HARDY & MARY HILL
Both of these winners live out of state, so I think it is so cool that they won! Thank you for entering, and I hope these gifts will help you grow in gratitude for the free and incredible gift of God's grace.
NURTURING AN ATTITUDE OF GRATITUDE
Each Mindful Monday of this month I want to do three simple things as we focus on giving thanks and giving gifts.
GROWTH

: For what should we be grateful? How do we grow in gratitude?

GUIDANCE

: Where do we turn for guidance on how to nurture an attitude of gratitude?

GIFT

: What can I give you that will help you in your journey toward greater gratitude?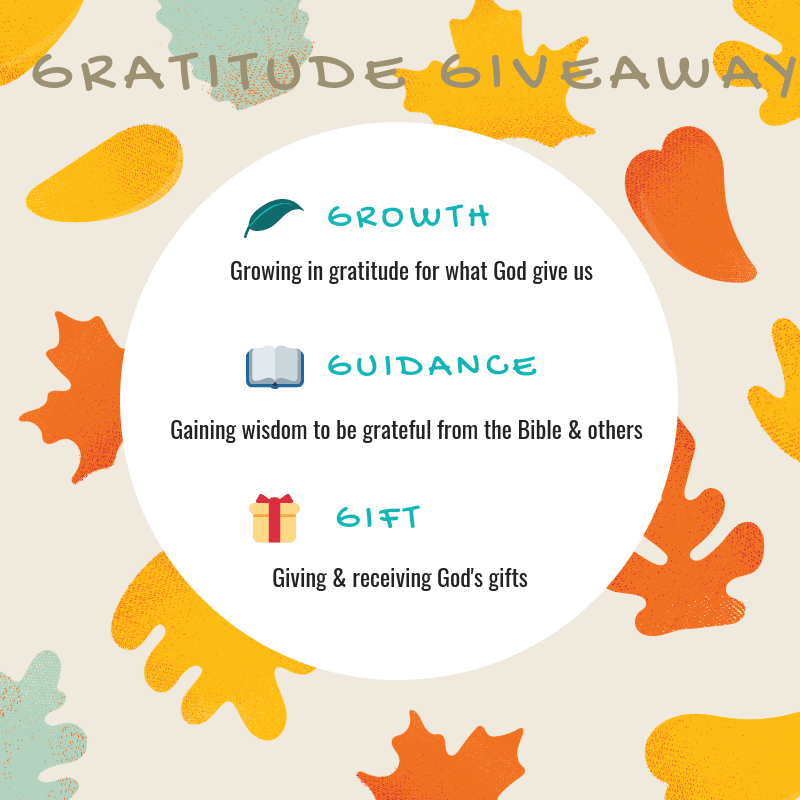 GRATEFUL FOR DAILY STRENGTH
GROWTH
As I have gone through various physical challenges throughout my adult life, I have been keenly aware of my daily need for God's strength. There are days when I am so physically weak and weary that the only source I can tap into to carry on is God's strength.
However, daily strength is more than physical, isn't it? We need God's strength to make the right choices, love the unlovely, avoid temptation, and live out the truth of the gospel. We need the power of faith, hope, and love when the road seems long, people have forsaken us, and circumstances are out of our control. On those days I cling to the promise in Psalm 73:26, "My flesh and my heart may fail, but God is the strength of my heart and my portion forever."
Did you ever consider that God allows us to be weak so that he can give us his power and strength? I know that my weaknesses have brought me to my knees (both literally and figuratively) and caused me to depend on him more deeply and profoundly. That is what I think the Bible means when it says "my power is made perfect in weakness." (2 Corinthians 12:9b) What an awe-inspiring thought!
So if you are feeling weak in any area of your life—mentally, physically, emotionally or spiritually—take hold of the strength that is ready and available for you each day. Thank God for his daily strength!
GUIDANCE
God is our refuge and strength,
    an ever-present help in trouble.
~Psalm 46:1 (ESV)
He gives strength to the weary
    and increases the power of the weak.
~Isaiah 40:29 (NIV)
For I can do everything through Christ, who gives me strength.
~Philippians 4:13 (NLT)
"His strength is perfect when our strength is gone. He'll carry us when we can't carry on. Raised in His power the weak become strong. His strength is perfect." 
~Jerry Salley & Steven Curtis Chapman, Song Writers
"Do not strive in your own strength; cast yourself at the feet of the Lord Jesus, and wait upon Him in the sure confidence that He is with you, and works in you. Strive in prayer; let faith fill your heart-so will you be strong in the Lord, and in the power of His might."
~Andrew Murray, Pastor
GIFT
I think the most important thing about daily strength is that we need to wake up each morning and ask God to supply it and end each night by thanking God for it. Although God's strength available to us in endless supply, we need to depend on it daily. So the gift I am offering this week is a daily calendar entitled "Streams in the Desert," where you can start each day with a short devotional to strengthen your heart and soul. I am also offering a gratitude journal to allow you to record your thankfulness each night before you go to sleep. I hope that using both of these resources will help keep you focused and grateful for God's daily strength.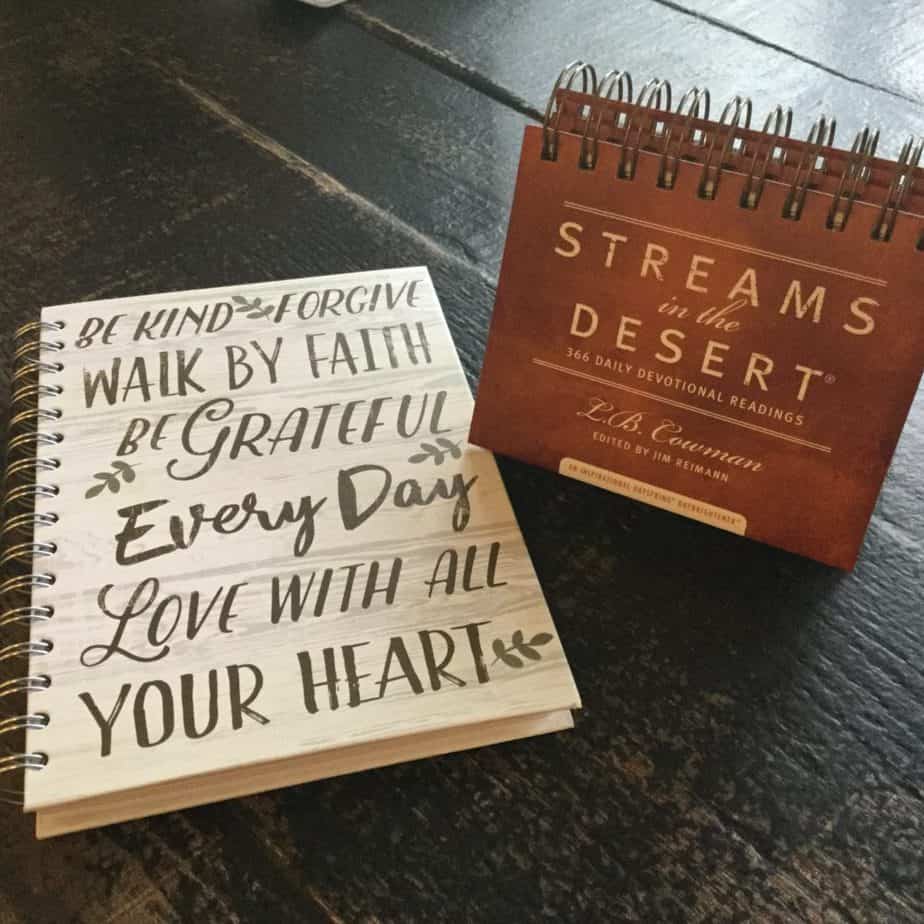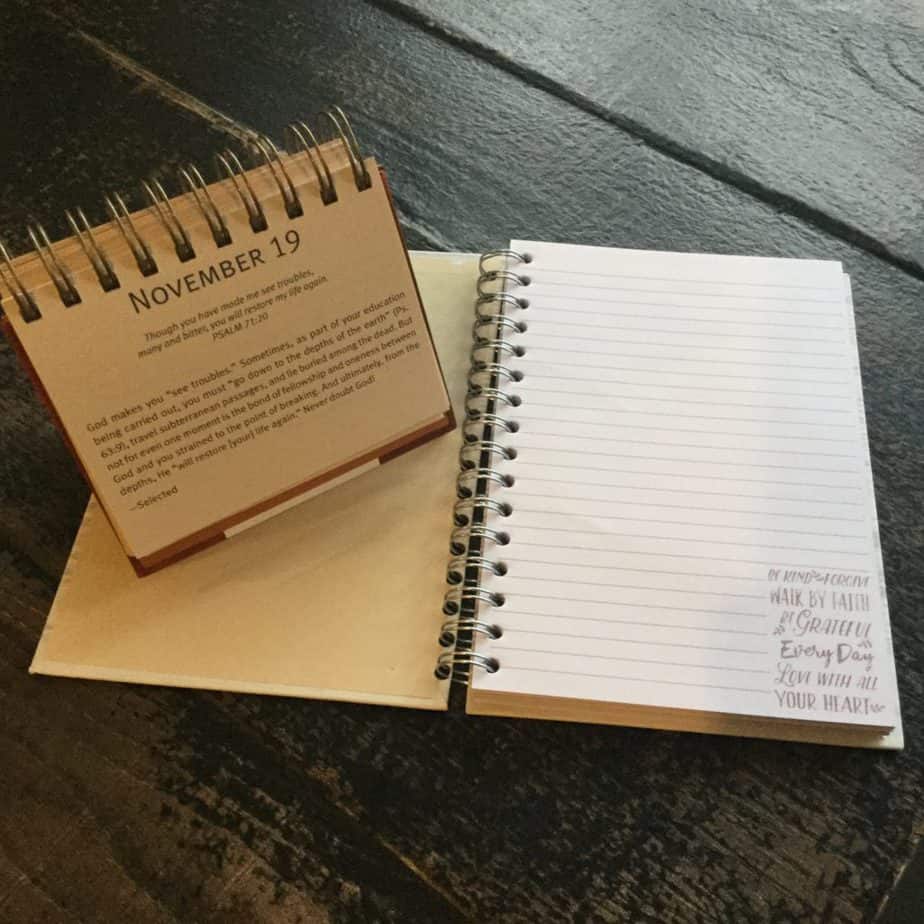 Here is how you can enter to win these FREE GIFTS in my GRATITUDE GIVEAWAY this week! Please read these guidelines carefully. Entering is so simple and easy, so please take the time to do it now! (If you are an email subscriber, please make sure you click on the link provided.)
Week 3: GRATITUDE for DAILY STRENGTH

I pray these giveaways will increase your attitude of gratitude for GOD'S DAILY STRENGTH.
The GRATITUDE GIVEAWAY for this gift runs throughout the entire week, so make sure you enter as many times as you can and share this post with your friends. I will announce and contact the winners next Mindful Monday.
Have a blessed Thanksgiving! I am thankful for each of you!