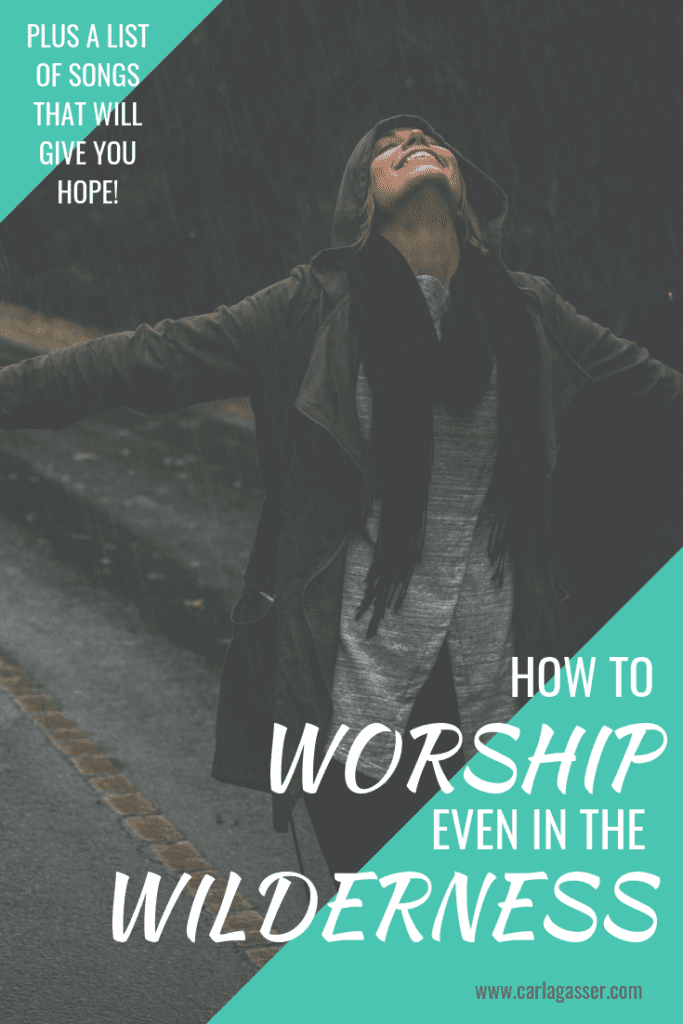 Worshipping in the wilderness can be so difficult when you are weary and wounded. Why should we worship in the midst of pain and loneliness? How can we lift our heads and give praise to God when we are struggling and suffering in the desert?
Welcome to our fifth Mindful Monday of THE WAY OF THE WILDERNESS blog series. If you are joining the journey, I encourage you to go back and start at the beginning. You can get to the first post by clicking HERE. For those of you who have traveled thus far with me, I appreciate your company more than you could ever know! YOU are the inspiration that keeps me writing (even the hard stuff) and pushing through my pain, doubt, and fear. I am grateful for those who faithfully reach out to me each week.
Last Monday we talked about how much words matter…especially when you feel alone and forgotten in the wilderness (Read that post HERE). I hope the four phrases I shared not only encouraged you on your path but also gave you empathy for others who are wandering in the desert.
WHAT TO DO WHEN YOU ARE WEARY
But sadly, sometimes words are scarce in the desert. Friends get tired of reaching out. Family members get on with their lives. Others think you should be moving on too.
There are days, right? Those days. Days when you want to stick your head under the covers and just stay there. Days when a pity party is the only invitation you want to accept. Days when the darkness threatens to swallow you whole without mercy.
Where do you turn on those days? What do you do to lift yourself out of the miry pit? How do you move forward?
Worship. Yes, I will repeat it because it sounds so counterintuitive. Worship.
WHY WORSHIP IS THE ANSWER
Worship seems the like the last thing anyone would want to do, could even do, while they are struggling and suffering in the wilderness.
Cry, wail, and weep? Yes. Complain and whine? Most likely. Stay silent and bitter? Another option.
But, worship? Worship is to honor with extravagant love and extreme submission (Webster's Dictionary,1828). True worship, as a follower of Jesus, is an attitude of the heart. It is acknowledging who God is and what role he has in our lives…no matter what our circumstances or where we are.
As always, we need to go to the Bible to find the truth about how to worship even in the wilderness. Psalm 63 is a psalm written by David during his reign as king. His son, Absalom, led a rebellion against him. David and his loyal followers had to flee for their lives. During that time David spent a short while in the northeastern portion of the wilderness of Judah before he crossed over the Jordan River. In that barren land, fleeing for his life from his own son, feeling disgraced and rejected, with an uncertain future, David worships in the wilderness (notes from bible.org). One commentator also notes of David's wandering in the wilderness, "There was no desert in his heart, though there was a desert around him" (biblestudytools.com).
Psalm 63

 (ESV)
My Soul Thirsts for You
A Psalm of David, when he was in the wilderness of Judah.
63 O God, you are my God; earnestly I seek you;
    my soul thirsts for you;
my flesh faints for you,
    as in a dry and weary land where there is no water.
2 So I have looked upon you in the sanctuary,
    beholding your power and glory.
3 Because your steadfast love is better than life,
    my lips will praise you.
4 So I will bless you as long as I live;
    in your name I will lift up my hands.
5 My soul will be satisfied as with fat and rich food,
    and my mouth will praise you with joyful lips,
6 when I remember you upon my bed,
    and meditate on you in the watches of the night;
7 for you have been my help,
    and in the shadow of your wings I will sing for joy.
8 My soul clings to you;
    your right hand upholds me.
9 But those who seek to destroy my life
    shall go down into the depths of the earth;
10 they shall be given over to the power of the sword;
    they shall be a portion for jackals.
11 But the king shall rejoice in God;
    all who swear by him shall exult,
    for the mouths of liars will be stopped.
WHAT WORSHIP DOES FOR US IN THE DESERT
1) WORSHIP RESTORES OUR SOULS
In this Psalm, David speaks of his soul thirsting and his flesh fainting for God. The psalmist knows that he needs God's presence to restore his soul and that only through worship can he get the nourishment he so desperately seeks (63:3-5).
2) WORSHIP HELPS US REMEMBER GOD'S FAITHFULNESS
While David could state his case or petition God for mercy, he does neither of those things during his song of praise in the wilderness. Instead, he reminds himself of God's goodness and faithfulness. Even when he is filled with turmoil tossing and turning throughout the night (can anyone relate?), he forces himself to remember who God is and what he has done for him in the past (63:6-8).
3) WORSHIP REALIGNS OUR PERSPECTIVE
David is a realist when it comes to his circumstances. He has no illusions as to why he finds himself in the barren desert; his enemies are seeking to destroy his life. However, that does not stop him from worshipping. Why? Because he knows that the battle is the Lord's. Worship enables David to shift his perspective from his weakness, fear, and isolation to God's power, provision, and peace (63:9-11).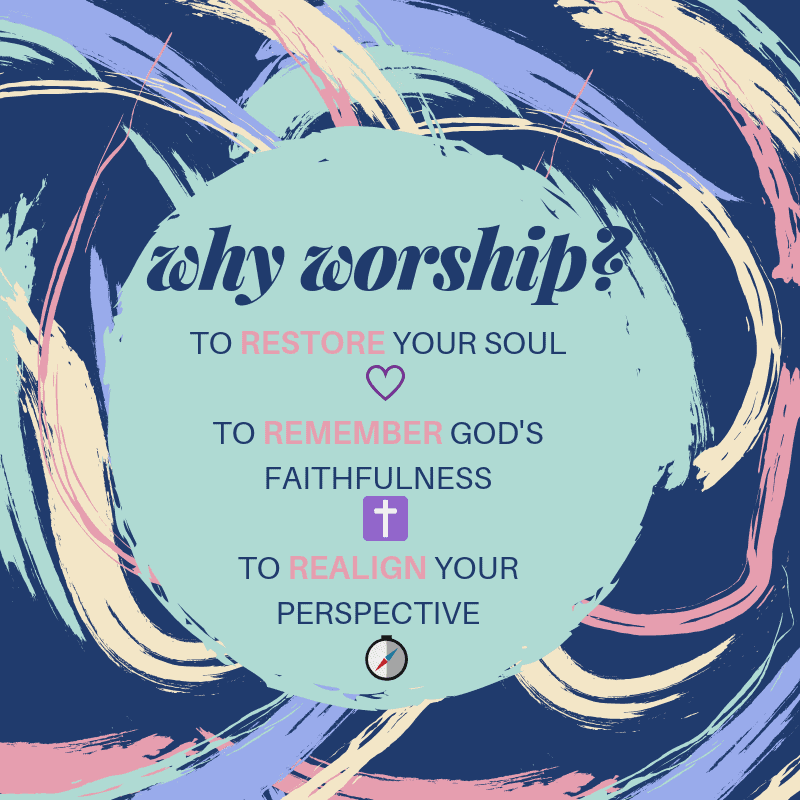 WORSHIP LEADS TO GOD'S PRESENCE
What do we need most as we make our way through the wilderness? GOD'S PRESENCE. It is the only thing that will comfort us, guide us, and lead us safely to the promised land. And the best way to draw near to God is to bow our hearts and heads in worship.
On this Mindful Monday, I want to encourage you to worship even when it is hard. The song entitled "Hills and Valleys" by Tauren Wells is one of many that have helped me learn to worship even in my wilderness. I will provide a complete playlist of songs to my email subscribers later in the week. If you do not want to miss this free resource, please sign up to be an email subscriber today!
CLICK HERE TO LISTEN TO "HILLS & VALLEYS"
Are you missing out on free weekly resources because you are not a subscriber yet?
It is pretty simple…just locate the box on the right sidebar and enter your information to be added to the list.
Watch for a confirmation in your email (check your junk folder if you do not see it soon), and you will be signed up to be a fellow traveler!
Your personal information will not be shared with anyone, and you will start receiving my weekly posts and free resources delivered directly to your inbox.