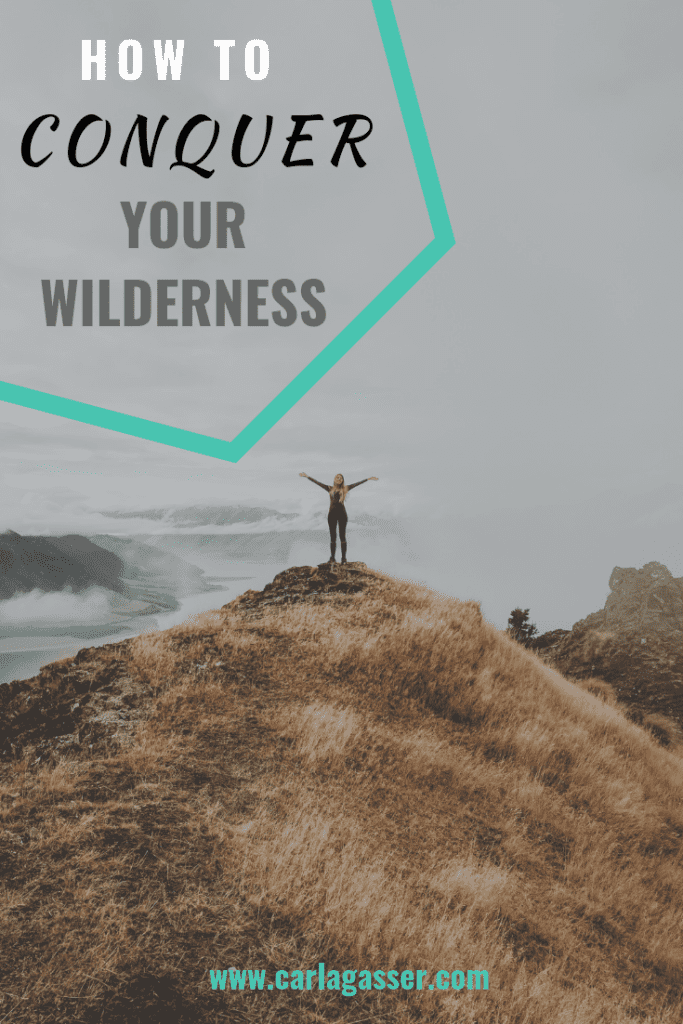 Do you know that there is a cost, command, and commitment to conquering your wilderness? Although God does not want to leave you wandering in the wasteland, he asks you to step out in faith and obedience to reach the other side.
How do you do this and finally conquer your wilderness? One step (however small) at a time in the right direction.
Can you raise your hands in victory on this Mindful Monday? I truly hope so. As we conclude THE WAY OF THE WILDERNESS series, I pray that you are at least one step closer to reaching the Promised Land. While I keep reminding you that all of our wilderness journeys are going to look different, forward progress is the best way to assess far you have come.
HOW FAR HAVE YOU COME?
Are you further than you were nine weeks ago when we started this journey? Take the time to look back and see.
Have you learned more about yourself? About God? About others?

Have you been able to name, frame, and tame your wilderness?

Have you cried out to God with your "why" questions?

Have you accepted the wilderness as part of God's will for your life?

Have you received or given words of wisdom during your desert experience?

Have you experienced God's presence as you worship even in the wilderness?

Have you redeemed your time by watching for God, waiting on him, and walking toward him?

Have you reached out to someone who is also struggling in the wilderness?
Dear wilderness wanderer, if you have been able to do even ONE of these things, you have come so very far!!! Let me encourage you that even one small step in the wilderness is forward progress and worthy of celebration.
THE
COST

OF LEAVING THE THE WILDERNESS

Last week we learned Why God Does Not Want to Leave Us in the Wilderness. He desires to bring us to the Promised Land…if we are willing to go. Through the story of Joshua, we understood that the Promised Land had to be fought for and taken by the Israelites. Leaving the wilderness required something of the people; there was a cost involved. The Israelites had to give up the comfort and complacency they had experienced in the wilderness and conquer unknown territory and enemies God's way. (Joshua 6:1-27).

We, too, need to carefully consider the cost of leaving the wilderness and entering the land of plenty. Are we ready to let go of the things, places, and people in the past that have been holding us back? Joshua told the people that they needed to "get rid of the gods your ancestors worshipped (Joshua 24:14) and worship God in total surrender and obedience. Are we willing to leave behind our "idols" of what a happy, successful, stress-free life looks like and choose to follow God and do things his way? Conquering the wilderness first involves a cost.
THE
COMMAND

OF CONQUERING THE WILDERNESS

Do not be afraid. Be strong and courageous. Obey everything that the Lord has commanded you. Joshua was very clear in passing on to the Israelites the instructions God had given to him (Joshua 1:1-9). He knew that a crucial step in conquering the wilderness would be replacing FEAR with FAITH and OBEDIENCE.

If we ever hope to cross the Jordan (or whatever obstacle is standing between us and the Promised Land), we also need to embrace these commands. It is important to note that the calls to be strong and courageous, to not be afraid, and to obey God are not suggestions or helpful hints… they are COMMANDS.  A command, according to Webster's dictionary, is an authoritative order to be followed. Put simply, the only way we can conquer our wilderness is to fear nothing and obey God in everything.
THE
COMMITMENT

 OF REACHING THE PROMISED LAND

In Joshua's closing remarks to the people, he offers this challenge: Choose this day whom will you serve (Joshua 24:15). Joshua knew that the battles would continue even in the Promised Land. He realized that the people needed to commit to serve and follow God or they would be tempted to doubt God's leading, retreat in fear, or follow after other gods.

God does his part in leading us from the wilderness to the Promised Land, and along the way, he promises to protect, provide for, and prepare us for what is ahead. Our part is to stay faithfully and consistently committed to him and his path no matter how we feel or how circumstances change. A fixed and focused commitment to following and serving God is necessary if we want to conquer the wilderness.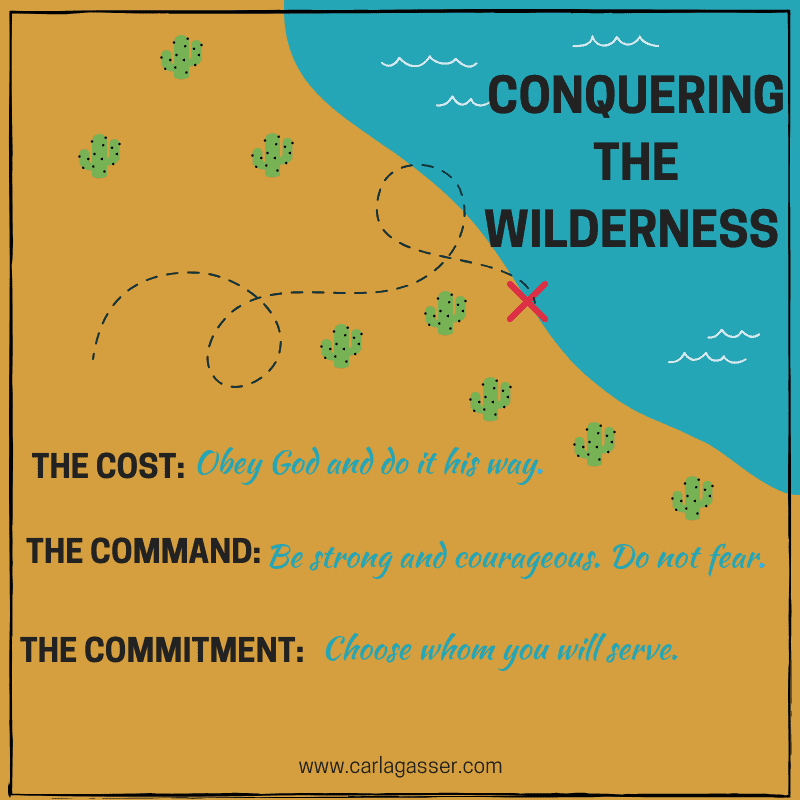 While this probably will not be the last time I write about the wilderness, I do want to close this series with some parting thoughts.
1) Gratitude
I want to thank God first for how he has used the wilderness in my life. Writing about my wandering in the wasteland has been so instrumental in changing my perspective and healing my soul. Second, I want to thank YOU for walking beside me on this desert journey. Your support, encouragement, and insight along the way gave me the motivation to keep going each week. I am so grateful for each one of you who took the time to read these posts and shared
2) Grace
One of the most important lessons God taught me in the wilderness is this: His grace is sufficient. In 2 Corinthians 12:9 God reminds us, "My grace is sufficient for you, for my power is made perfect in weakness." It has been at my darkest, lowest, weakest points that God's grace has come through. I am still amazed by God's grace and how generously he gives it…especially in the wilderness.
3) Growth
I hope you have grown as much as I have on this journey. Although growth is often a painful process, I am thankful that I am not the same person I was when I entered the wilderness. And I think that is mostly a good thing! With God's help, I did not let the desert break me or make me bitter. I hope and pray I am better for my time spent in the wilderness and that you are too.
4) Gift
I think I now can say this with genuine conviction: The wilderness has been a gift. Not one that I asked for or wanted, but one that I needed. God used my wasteland to restore and renew me physically, to teach and train me mentally and emotionally, and to protect and prepare me spiritually.  Only when God stripped me down to Christ alone did I realize that he was the only gift I truly needed. I hope one day you will look back on your wilderness experience and see it as God's gift to you too.
On this final Mindful Monday of THE WAY OF THE WILDERNESS, I send you out with faith, hope, and love to conquer your wilderness reminding you that it is not your final destination. God is preparing you for a new beginning and has big plans for you once you reach the Promised Land! Count the cost, remember the command, and stay true to your commitment and he will see you safely through to the other side.
November will begin my GRATITUDE GIVEAWAY month. I have been collecting some amazing gifts on this wilderness journey and cannot wait to start giving them away to show my gratitude. If you do not already follow me on Facebook, Instagram, Twitter, and Pinterest, make sure that you do because there will be a variety of ways you can enter to win these unique gifts! My email subscribers will have even more access and incentives, so if you have been holding out, please sign up to be an email subscriber today! Let the gratitude and giving begin!
Not a subscriber yet? It is pretty simple…just locate the box on the right sidebar and enter your information to be added to the list.
Watch for a confirmation in your email (check your junk folder if you do not see it soon), and you will be signed up to be a fellow traveler!
I will not share your personal information with anyone, and you will start receiving my weekly posts and free resources delivered directly to your inbox…
plus be entered for the fantastic giveaways during November!